SMS Marketing - Compare DirectMail.io vs Hustle
ALL-IN-ONE MARKETING PLATFORM
---
Text messaging is a direct and personalized way to connect with your consumers, to generate leads and to drive sales. Regardless of your industry, you understandably need to find the best SMS marketing platform for you and your team to use. As you compare some of the leading options available, a review of DirectMail.io vs Hustle is in order.
A direct SMS marketing campaign begins with a well-maintained data list. As you compare DirectMail.io vs Hustle, you will notice that Hustle does not offer this type of enhanced, essential service. Its competitor, on the other hand, directly connects your existing CRM with its platform. In addition, all data that you have collected on your clients will be cleaned, appended and safeguarded as needed. Your business has an ongoing need to keep up with your data list in order to continue maximizing the benefits of your campaigns. Through this service, you and your team can streamline campaigns while also elevating their impact going forward.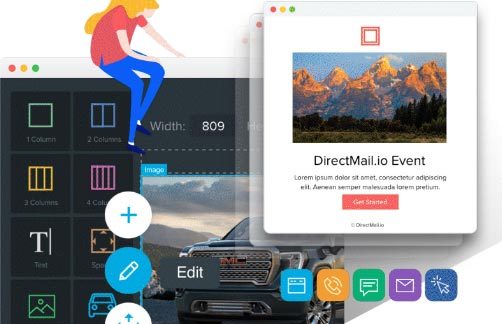 Both of these platforms provide you with the ability to dispatch messages immediately to hundreds or even thousands of contacts at a time. They also both provide 2-way communication so that you or your team members can respond to customers who choose to connect with you via a return text message. Many people find it easier and more convenient to send and receive text messages rather than to call a company after they receive a text message. In a sense, this is seen by customers as personalized service that they appreciate.
Both popular platforms also offer analytics, but the degree that data is refined and the digestibly of analytics varies considerably. Hustle has a rudimentary analytics screen that initially allows you to set and track goals. One of the ways that these goals are tracked is through directly adding details about conversations to each client's individual record. With this approach, the business must dig deep to fully analyze results from each campaign. On the other hand, DirectMail.io provides you with the incredible ability to review stats related to actions taken via the message. This includes visits to a landing page, questions answered in a survey, sales executed, direct responses and more. These stats are displayed in online reports that are easy to read and that can be drilled down to provide you with an even more detailed review of the stats as needed.
Hustle is an SMS text message marketing platform. Its specialty is limited to this aspect of your marketing campaigns, so you would need to connect with other marketing providers in order to get all of the help that you need with your company's digital marketing efforts. For example, you may need to use the services of a different company for social media marketing, direct mail marketing and more. In comparison, the alternative is an all-in-one digital marketing platform. In addition to supporting text message marketing, it enables your business to take advantage of communications across seven other channels. Across these channels, it offers more than 20 features for your business to use. As a result, you can expand your marketing efforts dramatically without increasing the burden on your team or working with multiple service providers. In addition, you may see more effective marketing results because your team is connecting with customers on different levels.
You can see that DirectMail.io stands apart from Hustle in critical ways. While Hustle has its strong points, the alternative offers far more services as well as more comprehensive services related specifically to SMS text message marketing. Are you ready to learn more about the options? Request a demo from DirectMail.io today.
Take a look for yourself. Schedule a demo